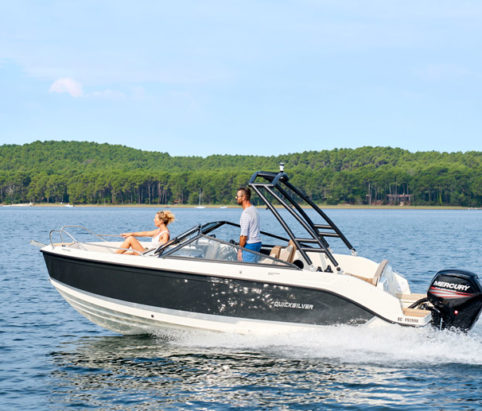 Boat

Description

Quicksilver Active 605 Bowrider

The redesigned Quicksilver Activ 605 Bowrider doesn't just look more streamlined. The model also has gotten longer and wider, giving you more space on board. On top, it has become an even better companion to discover remote places. Why is that? Its fuel tank is now the largest in its category!

SAFETY

Quicksilver's flair for practical features is further show cased with its integrated deck water management system; running from stern to cockpit it features a gasketed door and bow floor drain. The optimal design of the boat marries good cockpit depth with easy access to the water for a secure feeling afloat.

COMFORT

With a wealth of features which are conspicuously absent in its competitors' equivalents, the Quicksilver Activ 605 Bowrider gives you an enviable combination of space, style, practicality, and comfort for convivial days on the water. The cockpit area is ideal for dining and the 12v cooler is a welcome option for many, keeping food and drinks delightfully fresh on the longest hottest days.

VERSATILITY

Offering a wide range of practical innovations, Quicksilver Activ 605 Bowrider's bow easily converts into one of the largest sun lounges in its class. And that's just the start of the fun. There's a dedicated water-skiing pole for whenever the mood takes you and, when you want to really cool down, a wide stern creates a bigger area to make getting into the water easier.
Need finance? We are pleased to partner with Promarine Finance – click on our calculator below for an instant calculation and a fast decision on borrowing.