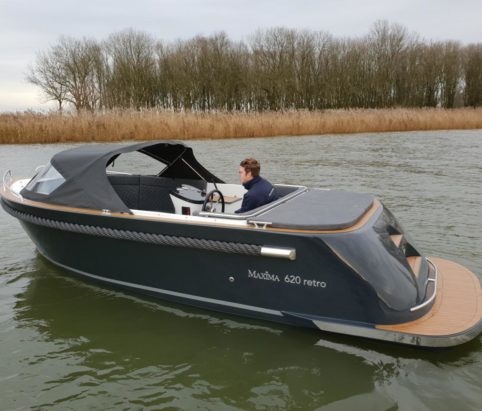 Boat

Description

The Maxima 620 Retro MC is a new layout, A smooth hull with a rope fender and integrated swim platform which is not only helpful when climbing out of the water, but it also offers protection to the propeller and the outboard engine. The swimming platform is also very useful for boarding and disembarking when stern mooring and easily accessible from the in-set transom steps.  The MC version of the Maxima 620 Retro offers a central 'walkaround' console.

The under water design of this Sloop is ideal for high speed cruising with engine options up to 60HP available. At slower speeds the boat is very stable, with good visibility to ensure that you feel extremely comfortable while cruising.

Maxima Boats are extremely stable due to the unique shape of the boat. With engine options ranging from 15hp – 60hp this boat is equally at home quietly cruising along inland waterways as it is at higher speeds on open water.
Boat Only Price (excluding delivery from manufacturer)  £21'950
Package 'From' price indicated includes – Boat to standard equipment specification, Honda BF15 LRU (15HP) outboard engine, rigging & preparation charges and delivery from manufacturer to Marine Tech works. For optional extras and alternative engine options to enhance your bespoke Maxima factory order, see below –
Maxima 620 Retro MC – Standard Equipment Included
Standard hull colour:- black, dark grey, light grey, white or dark blue
Several storage lockers
Stainless steel protection strip on bow and around bathing platform
Stainless steel railing above the hull and around the back seat
Anchor safe in front of the boat
Rope trim – natural or black
6 x Stainless steel cleats
Stainless steel bow eye
Steering console
Luxury steering system
Stainless steel steering wheel
Luxury seating & cushions
Waterline colour:- black, white, grey or orange
Space for a chemical porta loo
Deluxe Package (1) – £1,850
Teakline floor (Brown)
LED Navigation lights in hull
360 Degree LED anchor light
Automatic bilge pump
Switch panel console with 12v plug
Deluxe package with Black Teakline floor  £2150
Deluxe package (2) – £4,150
Permateak floor, swimming platform & locker/cool box hatches
Navigation lights LED in hull
360 degrees led anchor light
Automatic bilge pump
Switch panel console with 12 volt plug
Optional Extras –
Vetus Bow Thruster  £2,500
Hydraulic steering   £1,550
2nd Battery with diode  £795
Spray hood with stainless steel frame, back cover & storage cover (sport/family)   £2,550
As above, with removeable front window panel  £3,000
Black, blue, dark grey or light grey deck   £550
Other RAL colour hull   £550
Sunbed in-fill & cushions  £450
'Bun' cushion (rear deck/outboard hatch cushion)  £450
Luxury cushion upgrade   £550
Blinds for spray hood   £350
Bimini top deluxe with stainless steel frame and extendable legs   £1,095
Raised seat cushion with 4 stainless steel cup holders  £325
Armrest with 2 stainless steel cup holders  £225
Maxima pillow – small / medium / large £65 / £85 / £100
Fusion marine stereo with 2 x 120 watt speakers  £1,095
Garmin – 62cv touch screen, fish finder 'NMEA 2000' £1,650
Garmin – 7″ touch screen, chart plotter ' NMEA 2000' (40hp+) £2,395
Garmin – 9″ touch screen chart plotter/speed/depth  (40hp+)  £2,795
Stainless steel swimming ladder   £500
Cool box – 40 litre with charger  £1,395
Extra fuel tank 12 / 24 litre   £140
Built in fuel tank – 53  litre   £895
Antifouling – 5 coats including epoxy underlay   £1,095
Mooring package – 4 x fenders, 4 x ropes, anchor with line   £215
Chemical cassette toilet   £150
Oval table with detachable leg   £275
'Finteak' topped oval table with removeable leg   £395
Small flag pole / flag staff   £85
Large flag pole / flag staff   £175
Outboard engine lock (SCM Approved)  £145
Cable lock 5m (SCM Approved)  £140
Chain 2m (SCM Approved)  £200
Rigging Charge Includes –
Engine installation & PDI, battery, battery box, battery isolator, gear and throttle cables   £1,395
Alternative Engine Options –
15HP – BF15 LRU – with 12 litre fuel tank (included in package price shown)
15HP – BF15 LRTU – with 12 litre fuel tank
20HP – BF20 LRU – with 12 litre fuel tank
20HP – BF20 LRTU – with 12 litre fuel tank
40HP – BF40 LRTU – with 24 litre fuel tank
50HP – BF50 LRTU Honda- with 24 litre fuel tank
60HP – BF60 LRTU Honda with 24 litre fuel tank
Engine Model Codes –
LRU – Long shaft, electric start, remote control
LRTU – Power tilt (BF20 LRTU), Power Trim & Tilt (BF40, BF50 & BF60 LRTU) long shaft, remote control
For further information on the Maxima 620 Retro MC, please contact us
To build your 'virtual' Maxima 620 Retro MC, use the handy online tool

Product

Specification

Overall length:

6.15m (20ft 2in)

Overall beam:

2.30m (7ft 6in)

Draft:

40cm (1ft 4in)

Bridge clearance:

1.02m (3ft 4in)

Weight (without engine):

840Kg

Maximum number of passengers:

8-10

Maximum engine size:

60HP

Shaft length:

Long

Fuel tank type:

Portable (Quick Release)

CE category:

C/D

LOA:

6.15m (20ft 2in)