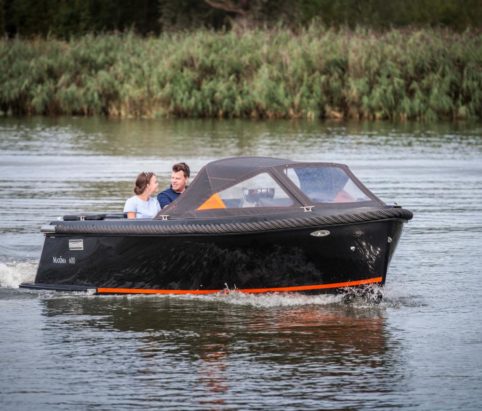 Boat

Description

Maxima 600 Sloop is both traditional and modern. A smooth hull with a rope fender and an integrated swim platform which is not only helpful when climbing out of the water, but it also offers protection to the propeller of the outboard motor. The swimming platform is also very useful for boarding and disembarking.

The 'under water' design of this Sloop is ideal for fast cruising with maximum of 60hp outboard, but also at slower speeds makes the boat is very stable,  and with good visibility to ensure that you feel extremely comfortable while sailing.

Maxima Boats are extremely stable because of the unique shape of the boat. With engine choices ranging from 8hp – 50hp this boat is equally at home quietly cruising along the inland waterways as it is water-skiing or even wake boarding on the open water.
From' price shown is for the boat with a standard equipment specification, fitted with an 8hp Honda LRU Outboard engine and rigging charge included.  For factory ordered boats, extras can be added and are priced as below.
Maxima 600 Sloop – Standard Equipment Included
Standard hull colour:- black, dark grey, light grey, white or dark blue
Several storage lockers
Anchor safe in front of the boat
Rope trim – natural or black
6 x Stainless steel cleats
Stainless steel bow eye
Steering console
Luxury steering system
Stainless steel steering wheel
Luxury seating & cushions
Waterline colour:- black, white, grey or orange
Deluxe Package – £1450
Teakline floor
LED Navigation lights in hull
360 Degree LED anchor light
Automatic bilge pump
Switch panel console with 12v plug
Optional Extras
Spray hood with stainless steel frame, back cover & storage cover (sport/family)   £1950
Black, dark grey or light grey deck   £500
Other RAL colour hull   £500
Sunbed In-fill   £300
Luxury cushions   £500
Outboard recess cushion   £300
Spray hood   £295
Overall cover   £1000
Bimini top deluxe with stainless steel frame and extendable legs   £995
Maxima pillows – small / medium / large £60 / £75 / £90
Stainless steel swimming ladder   £500
Cool box   £495
Fusion Stereo £1250
Garmin – touch screen, fishfinder 'NMEA 2000 £1499
Garmin – touch screen, chart plotter ' NMEA 2000' £2195
Extra fuel tank 12 / 24 litre   £140
Antifouling – 5 coats including epoxy underlay   £895
Mooring package – 4 x fenders, 4 x ropes, anchor with line   £195
Chemical toilet Porta potti   £135
Oval table with detachable leg   £250
Oval table 'finteak' with removeable leg   £350
Flag pole – small models   £75
Flag pole – larger models   £155
SCM approved outboard engine lock   £95
SCM approved cable lock – 5 meter   £119
SCM approved chain – 2 meter   £185
Braked trailer Pega Maxima liner – 1350 kg with 14″ wheels   £3295
SCM approved draw bar lock   £95
Rigging Charge Includes
Engine installation & PDI, battery, battery box, battery isolator, gear and throttle cables   £1095
Boat + Engine Options:-  (including rigging charge)
Honda BF8 LRU – with 12 litre fuel tank   £16,444
Honda BF10 LRU – with 12 litre fuel tank   £16,534
Honda BF15 LRU – with 12 litre fuel tank   £16,834
Honda BF20 LRU – with 12 litre fuel tank  £17,184
Honda BF40 LRTU –  with 24 litre fuel tank   £20,094
Honda BF50 LRTU – with 24 litre fuel tank   £21,024
Honda BF60 LRTU – with 24 litre fuel tank   £22,644
Engine Models
LRU – Long shaft, electric start, remote control
LRTU – Power tilt, long shaft, remote control
For further information, please contact us