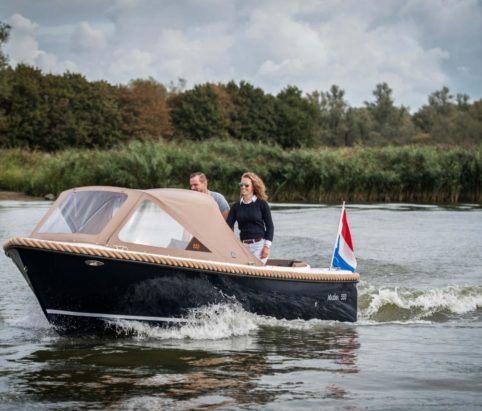 Boat

Description

The Maxima 550 is a very traditional Dutch design Sloop with a straight stern, a smooth hull and the characteristic traditional rope fendering. Maxima Boats offer great value for money, with smart building and purchasing without compromising on quality – this is the reason that Maxima Boats can offer such a good product with a really competitive price!

Sleek and elegant, lots of interior space and a feast for the eye, that's the Maxima 550.  A lot of attention has also been paid to user comfort with ergonomic seating positions and other smart solutions. 50 Years of experience and listening to the wishes of customers has resulted that every Maxima sloop or tender has several advantages compared other competitors, with space for a porta-loo, a cool box, and more than enough storage room for your sunbed and the spray hood is fully adjustable.  Furthermore, the round seat can be converted into a sun deck and an optional cool box unit is available for   the console as an extension – very unique for a sloop in its class.

Maxima Boats are extremely stable because of the unique shape of the boat. With engine choices ranging from 8hp – 50hp this boat is equally at home quietly cruising along the inland waterways as it is water-skiing or even wake boarding on the open water.

In summary the Maxima 550 is a modern sloop at a very attractive price.
Our Stock Boat price includes a Honda BF8LRU Outboard Engine, the standard equipment list, deluxe package with black finteak decks, dark grey hull with light grey decks, light grey waterline, dark grey/black rope fender, diamond carbon spray hood & tonneau cover (vision family), sunbed in-fill, rigging charge and delivery from factory to Marine Tech   £17,995
Maxima 550 Sloop – Standard Equipment

Standard hull colour:- black, dark grey, light grey, white or dark blue
Several storage lockers
Rope trim – natural or black
6 x Stainless steel cleats
Stainless steel bow eye
Steering console
Luxury steering system
Stainless steel steering wheel
Luxury seating & cushions
Waterline colour:- black, white, grey or orange
Deluxe Package – £1450
Black Teakline floor
LED Navigation lights in hull
360 Degree LED anchor light
Automatic bilge pump
Switch panel console with 12v plug
Optional Extras Included:-

Light grey decks / superstructure
Spray hood with stainless steel frame, back cover & storage cover (sport/family)   £2050
Sunbed In-fill   £300
Luxury cushion upgrade – diamond quilted  £500
Rigging Charge Includes
Engine installation & PDI, battery, battery box, battery isolator, gear and throttle cables   £1095
Delivery to Marine Tech  £750